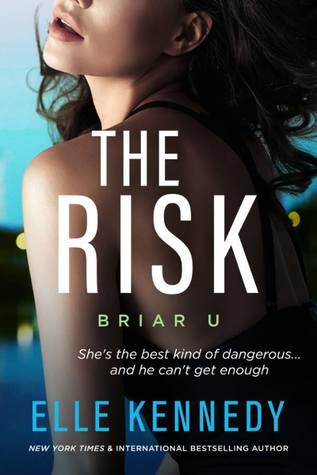 So I'd like to thank Elle Kennedy for sending me an e-arc of this it is very much appreciated! When this landed on my kindle I legit nearly screamed. I read The Deal, The Mistake, The Score (my favourite one) and The Goal as well as The Chase. So I have fallen hard and fast for this series and I love it. So when I got this book I was very happy and was more than happy to tease my friends (Sorry Nkisha 😂😂Not sorry).
Jake is hilarious, I loved his character and he was so passionate about Ice Hockey and be there for his team. When he was laying the law down and basically telling them that they had to concentrate and give it up on a few habits, for one of the team it included Brenna. So that was just funny, he was a real great listener and really sweet and I actually loved him.
Brenna is hot sexy and dangerous, that was one of my thoughts in the Chase and it still applies in her book! Although we saw more of the side of her being funny in this book. Although she is a dangerous girl the way she can seduce and manipulate the Harvard team when she was proving a point to Jake was hilarious.
I loved the fake dating in this book, the bargain is for every fake date Brenna must give Jake a real date. I was kind of disappointed with this, there was only one fake date. I felt if Elle Kennedy was going to bring this kind of trope in she should have stuck with it for a little bit longer. She could have expanded way more on this trope and got to play around with Brenna and Jake a little more rather than just bringing it in once and never seen again. Especially as it is in the description of the book so I just hoped for a little more fake dating.
Although the real dating that was so cute and I loved the little bowling date they went on. Jake and Brenna are cute. I loved their relationship and how they were as a couple especially as Brenna tries to push him away so much until she can't deny it. I loved how they connected and how much they seemed to get under each other skin. I loved their relationship.
I love this Hollis and Rupi couple it was so unexpected and yet it was hilarious. When Summer and Brenna gave Rupi Hollis' number and I did not expect it to go how it did. I love them as a couple and they were hilarious.
The Harvard team had their moments, it was hilarious especially when it came to the bubble butt business. I think that's one of my favourite moments in this book and it was so amusing.
I really didn't like Hazel I could tell from the moment she appeared in this book she had a thing for Jake and when she almost doesn't give the bracelet back (you'll understand when you read it) I was like you horrible person! I'm glad that Jake is nice to forgive her.
Brenna's story broke my heart, I don't want to say too much about it because you should read it. But it broke my heart when she was telling Jake what had happened and why her dad was sometimes so untrusting of her. I also think it shows what kind of person she is because when Eric called her she still went and helped him. And if I was her I wouldn't have but she is such a kind person especially after EVERYTHING (again will make sense when you've read this).
So Brenna and her dad was a really accurate portrayal of dad and daughter relationship at least for me, it was very real. You know her dad was worried and wanted to protect her and at times they clashed really bad. I think when it came to a certain scene in this book when Brenna finally confronts her dad about what happened in her past there is a real turning point. The conversation with her dad killed me I was sobbing like a little baby and it really hit me hard that did. But yes I could totally relate to Brenna and her dad's relationship. I also love by the end her dad is totally supportive of her and Jake and I loved it.
I loved seeing all the other characters in this book, so many times during this book it made me laugh out loud and I think one of my very memorable moments is when Brenna tells her dad she's going out with Summer and he's like well Dean said she set fire to her school and is crazy. It really made me chuckle. So much in this book was just quite funny despite having it's really serious bits in the book it was a perfect balance.
This story for me was perfect and I loved the characters, the story and just everything about it. I will say I don't think this one tops The Score but it's close.