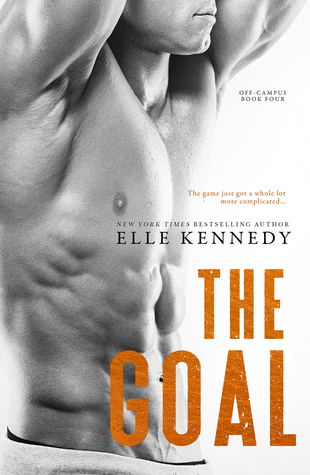 She's good at achieving her goals…
College senior Sabrina James has her whole future planned out: graduate from college, kick butt in law school, and land a high-paying job at a cutthroat firm. Her path to escaping her shameful past certainly doesn't include a gorgeous hockey player who believes in love at first sight. One night of sizzling heat and surprising tenderness is all she's willing to give John Tucker, but sometimes, one night is all it takes for your entire life to change.
But the game just got a whole lot more complicated…
Tucker believes being a team player is as important as being the star. On the ice, he's fine staying out of the spotlight, but when it comes to becoming a daddy at the age of twenty-two, he refuses to be a bench warmer. It doesn't hurt that the soon-to-be mother of his child is beautiful, whip-smart, and keeps him on his toes. The problem is, Sabrina's heart is locked up tight, and the fiery brunette is too stubborn to accept his help. If he wants a life with the woman of his dreams, he'll have to convince her that some goals can only be made with an assist.
So I have read The Deal, The Mistake and The Score, and after reading The Score I had high expectations for Tucker's story because he is a gem in the other books. I was kind of disappointed with this one after reading The Score it kind of dropped for me The Goal did.
Sabrina, I understood her actions so much when it came to Tucker and the baby and trying to do it herself so she wasn't holding him back. I loved that she was trying to be selfless but at times it did get annoying at times but Sabrina was such a kind-hearted person.
Tucker, he is honestly my favourite but during this one, I felt like he lost his sparkle a little. I understood why but I missed his normal character, that being said he was amazing taking Sabrina on and the baby. I loved seeing Tucker with a baby, it was so cute! I also loved Sabrina and Tucker's relationship they were so cute and I just loved it. They both settled into a little family and they were both so cute. I loved how supportive Tucker was whilst Sabrina was at school, and their little family unit.
I hated Roy oh my god he was disgusting to Sabrina, throughout this book I was like will somebody just hit him with a bus?! There was literally a scene where Sabrina was breastfeeding her baby and he came onto her and when Tucker walked in I had never been so glad. He was horrible. Nana, she was another character I didn't like she treated Sabrina so badly, although I do have to say Nana redeemed herself when baby Jamie came. But so many times through this I got mad at these two characters like Tucker was doing the best he could to protect her and he managed to move them both out into a place of their own. They were the perfect family unit.
So adorable. I loved this story but still to me it didn't have the same thing Allie and Dean had.