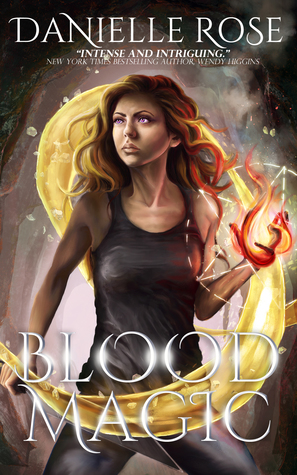 Avah Taylor thought she had already faced the worst.
As her coven's chosen one, destined to receive a power that could kill her, Avah was forced to make the ultimate sacrifice when she gave up her mortal life to become a vampire, the witches' greatest enemy. But just when she begins to adjust to her new life, even as she falls in love with her sire, the high priestess of her new coven is seized by Rogue vampires.
Guided by Avah's visions of the past, present, and future, Avah and the other vampires set out to rescue their priestess, but their journey leads Avah to the discovery that the conspiracy behind her power runs deeper than she ever imagined. As her visions grow increasingly terrifying, Avah begins to wonder if she may not have a future at all.
I really loved the small recap we had in the beginning chapters it helped remind you what had happened in Blood Rose the first book so I thought that was very helpful! It helped remind me too! I liked that Avah and Jasik when they did have disagreements especially when it came to problems in their relationships, they acted like adults and spoke it through instead of going off and causing unnecessary drama.
I loved watching Avah learning about her abilities and new things when it comes to her powers and seeing her master the powers. We also discover some information to do with Avah, I don't want to say it because it will ruin the story. But it was really interesting seeing Avah's reaction once it is revealed. Avah also has a conversation with her mum and it was a much-needed one and we see it affect Avah and it's very interesting how she does deal with it. Avah is a very strong character and she never backs down when she's told she can't do something and she always fights for it. Which I love!!
Jeremiah really felt like comic relief at times and he was so funny, the same with Lillie and Sebastian they were very snarky and at times it brought some comic relief to the book but it didn't take from it either and I loved that.
Sebastian, I was unsure about him at the end of the first book but I really grew to like him and how he cared for Avah and protected her numerous times and I did really like that. Although for him it was a little more than friendly, but it was only one sided but I loved the relationship that built especially with both of them being hybrids.
I really like Jasik's reactions when he sees that Avah has masted her mind reading abilities it was the most funniest thing ever, it was one of my favourite moments in this book so I felt the need to mention it!
The sex scenes in the book were very well written and didn't feel trashy at all.
The cliffhangers Danielle Rose is brilliant she is the Queen of cliffhangers! She always does the best cliffhangers and it makes you just want the next one immediately. Believe me, I do want the next one, she is an amazing author and it just pulls you into the world she creates. She truly does have a gift for writing and I can't wait to see what she does now!