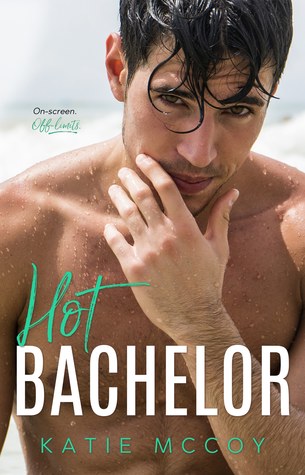 Dash Hennessy is the hottest bachelor in the country, looking for love in front of an audience of millions… He just wasn't supposed to pick ME!
I just landed my dream summer gig: working as a production assistant on TV's smash-hit reality show, Ever After. Two months of sun and fun at the beach? Sign me up! Until the moment I come face to face with this season's bachelor, racing's bad boy Dash – aka, the mysterious hottie I just hooked up with at a creepy motel off the I-80.
Can you say, awkward?
Dash is sexy, charming – and totally off-limits. But the chemistry between us is way too hot to ignore. He's playing to win, and he's got his sights set on the prize: me!
Soon, the action is heating up off-screen. But between ratings-hungry producers, back-stage drama, and twelve of the most cutthroat glamazon contestants known to womankind, I'm in way over my head. Can I find my happily-ever-after, or will it be lights, camera, heartbreak?
The Bachelor gets a rom-com twist in Katie McCoy's hilarious, sexy new read!
I really liked how this story began with the flight being diverted we learnt a lot about Paige and Dash and then they went on the small road trip and I really enjoyed it. I loved the banter between Dash and Paige it really did make laugh and it was some of my favourite parts of the book.
I also really liked that we got to see behind the scenes of the television programme and the set it was so interesting and because I obviously have a degree in theatre and media it was even more interesting to me. I loved seeing how it worked and it added to the story I really did enjoy it.
I really liked how we discovered the reason why Dash was doing the programme and I liked how we learnt about each of them. And how information was revealed to the reader. I liked how Paige and Dash built their relationship. The actual getting together of Paige and Dash was very fast and slow burning they kept getting interrupted and it was so entertaining watching the frustration from both characters. I really liked Paige as a character being head strong and knowing what she wanted but also not willing to sacrifice her morals to get what she wanted. I really loved that about her. The romance between Dash and Paige I loved how they could banter with each other so much and how they built their relationship after their initial meeting. I just loved it. I wish we could have gotten to know more about them as people, it would have been a 4-5 star review if that was the case. But overall a good fun loving read! I'll definitely be reading more from Katie McCoy!
I really loved how Paige stuck up for Dash even though they weren't together at the time. Which was obviously that although she could have had a promotion instead she stuck up for him against the producers of the programme and I really liked that. I also loved the way that they said I love you to each other.
It was cute and I really enjoyed the story.