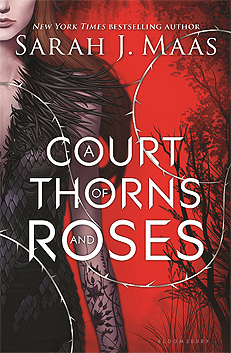 So I have had this book on my shelf since it basically came out, and I have only just gotten around to reading it I decided to pick it up yesterday I got 90 pages in went to bed and when I woke up this morning I finished the book off. My one worry with this book was the hype, sometimes overhyped books just tend to make me dislike them and sometimes they don't deserve the hype. This one did.
A Court of Thorns and Roses gave me all the right feels in all the right places and I loved it, the book just it's perfection, I don't think I had any faults with it at all. I just fell in love with it, and I think it helps I love Sarah J Maas' writing it's so easy to get on with and flows so well her writing just brings you in and before you realise you are at the end of the book.
A Court of Thorns and Roses was basically meant to be a Beauty and The Beast retelling, and if we are looking from that side of this book it makes me smile because you can't tell who is the Beauty and who is the Beast at some points in this book, both Tamlin and Feyre have both beast moment and beauty moments that's the only way I can really explain that aspect of this book. This book stands well on it's own and as it only has elements I wouldn't really say much of a re-telling, more like elements of a re-telling. It was amazing, this is my second Sarah J Maas book that I have read the first one was being Throne of Glass and this is the second. I think I can safely say I will be instantly buying her books no matter what they are about. She just became an insta-buy author!
The plot was so good in this story, we see Feyre in her life with her family where she is forced to hunt so her family can feed and not be hungry, and as it is winter we see Feyre be more desperate than before and going further into the forest. Feyre basically kills a Fae who is a wolf and a few days later. Someone comes knocking on the door to take Feyre away for her crime, which it turns out to be Tamlin! She is taken to live with him forever and her family is taken care of as we soon learn. We follow Feyre as she lives her like in this kingdom and how she feels about leaving her family behind and be with a Fae after everything they are told.
Tamlin from what we know of Fae in everybody books they always seem to be casted as the bad guys and that they are seen to be evil. Sarah J Maas made the Fae's a little different in this book being that they can lie which I really thought was an interesting spin off so seeing Tamlin tell some fibs to her just makes me smile. Tamlin was everything you do not exepct from a Fae, he doesn't hate humans he doesn't want to kill them. He does what he has to for his kingdom and to be able to protect his people and his land but also the mortals around them. He had such different personalities he would do so many mood swings in little time, like one minute he can be so serious then to being jokey with Feyre or angry or his feelings for Feyre which I can only describe as horny. When he bit her the night of the Fire Night and their reaction it just made me laugh. He was such a good character in the book and I loved it.
Feyre was so complex in her feelings obviously for the majority of the book she is mortal and we see her change so much first she fears the Fae and then she begins to trust Tamlin and Lucian that they won't kill her and she is truly there to just live out the rest of her life. It was nice to see them all bond especially her and Lucian due to the fact at first he wanted to kill her, kind of like blood must have blood (quote from The 100 Tv show) but he soon warms to her after a little bit. Anyway back to Feyre her loyalness to her family is something you don't see often and although she resented her father and her sisters she was still there brought them food and took care of them which I thought said so much about Feyre as a person. She was willing to do anything for her family. So not having to take care of them learning that Tamlin had taken care of them was good for her because she finally let go and began doing things for herself.
Lucian this fae, he was amusing to me how he grew to like Feyre and then began protecting her too, by the end of the book he says that he wasn't just doing it because he made a promise and an oath he was doing it because he didn't want her to die and cared about her. Lucian had such a tragic story and it made me feel so sorry for him and yet he kept going on like nothing had happened and so much of him just wanted to go on like that.
I want to talk so much about this but I'm afraid I'll just ramble so I'll end it here, if you have read this book tell me what you think, if you haven't read this book. Go and read this book.